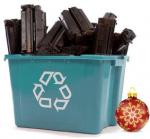 Did you know that if you are a Cartridge Green business customer, we will be happy to collect your empty cartridges for free whenever you make an order? And that's all year-round, not just at Christmas!
This is just another service we provide in order to make your life easier. So have a clear out before Christmas and get those empties replaced and ready to go for the New Year.
We look forward to serving you in 2013. And you can be sure that whatever aspect of our service you avail of, you can always count on our reputation for delivering a high quality product or service in an expert and efficient manner!
Wishing you a Happy Christmas from Cartridge Green!