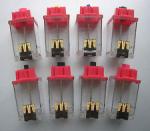 The price of printer ink recently featured on the BBC's Watchdog programme, which found that ink is more expensive than vintage champagne!
Read the full article on the programme here:
Printer Ink
HP, Canon, Epson – between them they manufacture up to three quarters of the printers in UK homes. It's a profitable business – particularly because ink is now far more expensive than vintage champagne!
It's a familiar story – your ink runs out, everything goes smudgy, and you have to buy more. It's frustrating, and very costly. Printer ink is one of the most expensive liquids you can buy and HP's inks are particularly pricey.
Sarah Dyckhoff, Managing Director of Cartridge World Aylesbury, says "an HP 301 cartridge, which is one of their newer ones that has 5ml of ink in it. It costs £12, if you add that up it would mean that one lire of ink would cost you £2,400".
That makes this ink over 4000 times more expensive than a litre of crude oil and 1800 times pricier than a litre of petrol. That's the same price of 68 bottles of premium whisky or 21 bottles of vintage bubbly.
The big question is this: why do we have to shell out more often? How come cartridges seem to be running out a lot quicker than they used to?
It turns out that there's a very good reason for that – our ink is the latest product to shrink. If you look inside different three HP cartridges from the last 9 years show you'll be amazed how much smaller the sponge inside the cartridge has become over time.
Sarah Dyckhoff: "Until you actually open the cartridge, you would not know from the outside what you're actually getting on the inside. These cartridges are all very similar on the outside. If you lift it up – the size of the sponges changing dramatically".
The sponge is the bit that holds the ink, and over time this sponge has got steadily smaller, meaning that the 2011 model can fit significantly less ink than the one from 2004.
To be fair, these newer HP cartridges are cheaper – nearly half the price. But don't be fooled. The cartridge price may have gone down, but it now holds less than a third the amount of liquid, making the latest standard black HP ink is almost twice as much per litre as the 2004 model.
And it's not just HP. Since 2005 Canon have cut the amount of ink in their cartridge too – meaning the price per litre has increased by 25%. Meanwhile, since 2006 Epson have almost halved the amount of ink in their cartridges. Epson too have also halved the price of their cartridges – but according to the price on their own website, that still means their ink is the equivalent of £1,410 a litre.
So, what does all this downsizing mean for company profits? How much does it cost to set up your own printer ink cartridge company?
We spoke to Chris Brooks, the Technical Director of the UK Cartridge Remanufactures Association, who supplied us with the wholesale prices of the cartridge parts. After adding it all up we reveal that the cost of making a cartridge – without counting the cost of labour, production costs or overheads – is 29p.
Company Responses
HP:
HP cartridges are precision-engineered with sophisticated electronics and unique inks formulated by our chemists to perform in precise ways. People expect to create great looking, long lasting print-outs with minimum hassle. The price of our cartridges reflects the huge investment, effort and care we put into developing the technology that makes this possible.
HP printers and cartridges offer the best quality, but we also appreciate household budgets are under great pressure. There are some simple steps everyone can take to reduce their printing cost without compromising on quality. First, make sure you buy the type of printer that best meets your needs. Second, choose the right settings for each job – our printers have options that save time and ink. Third, consider buying high-yield cartridges or multi-packs, which reduce your costs over the long term. Finally, use original cartridges because they are guaranteed to avoid waste or damage to your printer.
EPSON:
The inkjet technology within our print heads has advanced significantly in recent years. This means they are able to produce a greater number of pages with an equivalent amount of ink.
There are many compatible ink cartridges available on the market at varying prices and of very varying quality. Epson's printer customers are free to use whichever brand of ink cartridge they prefer. Epson can only guarantee printer performance when used together with Epson ink.
Click here to find out more about printer ink from Cartridge Green.