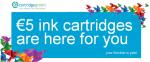 We are delighted to launch a new money saving package called Fiver Foreverwhere you can avail of ink cartridges for only €5. There are no time limits and no commitments. And the really great news is, you already have the printer that is used for the Fiver Forever package.
Simply drop into your nearest Cartridge Green store and get a full set of cartridges refilled at the standard refill price and we will switch you to the Fiver Forever package for free. And if your ink requirements increase at anytime in the future, you can always change to the Total Freedom package and enjoy unlimited ink again. No matter what your ink requirements, Cartridge Green has a money saving option just for you!
Bray Novara Avenue, Co. Wicklow (01) 211 6376 bray@cartridgegreen.ie
Dundrum Taney Road, Dundrum, D14 (01) 296 7626 dundrum@cartridgegreen.ie
Leopardstown The Mart, Leopardstown Rd, D18 (01) 207 0575 leopardstown@cartridgegreen.