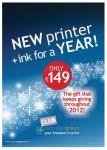 Be Print Happy this Christmas with Club Cartridge Green
Looking for an original gift idea this Christmas? Embrace the freedom to print with a New Printer plus ink for a Year for Only €149. And that's not all the great news because the cost reduces to only €79 for every subsequent year! Print as much as you want without worrying about cost. Go crazy. Print lots and lots and lots. Be creative, be productive, be colourful, share your talents. "Be Print Happy!" And remember with Club Cartridge Green you can print premium quality photos at home and with the freedom to print you can print as many as you like for only €79 per year!
NEW printer + ink for a YEAR!