Cartridge Green – article appearing in The Franchise Magazine
In advance of their imminent launch in the UK, we take a look at this exciting franchise model and find out how Cartridge Green has become a market leader in only four years…
Founded only four years ago, Cartridge Green is already Ireland's leading franchised supplier of printer cartridges for home and business users.
According to Cartridge Green's Director of Franchising Nik Healy, "The Cartridge Green business model was developed, tested and perfected in Ireland for the roll out in the UK. In only four years our business has achieved significant double digit, year-on-year growth against the backdrop of the worst ever economic crisis." Healy added, "The potential for the Cartridge Green franchise model in the UK is huge, particularly when you consider the much higher population densities and lower levels of competition in comparison to Ireland."
Cartridge Green are now looking for entrepreneurs to emulate their success in Ireland and develop the brand into the number one franchised supplier of printer cartridges in the UK.
Read Cartridge Green's article appearing in The Franchise Magazine here.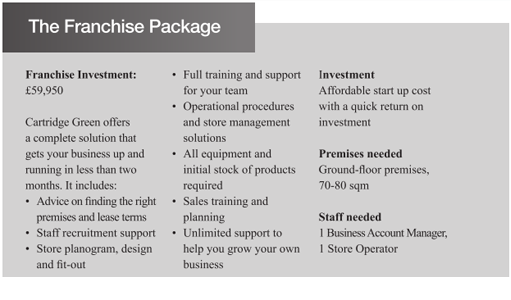 5 reasons you should consider a franchise with Cartridge Green :
* Ongoing support including mentoring
* Annual growth despite recession
* Environmentally friendly product
* B2B and B2C revenue
* Proven business model