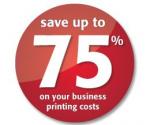 Are your Printers leaking money? Get a free print cost analysis and save in 2013.
Your printers are probably leaking money and you don't know it. Now it's time to be smart with your print cost and printer management by cutting waste and ensuring efficiency. The result will be spending less money on print and ending up with a higher quality product in the process. What better way to kick off 2013 then by scheduling a free print cost analysis!
This analysis considers your printer set-up and will include recommendations on printer-type, reduction in your printer numbers and the cost-benefits of centralised printing. The analysis will include a projection on how much Cartridge Green can save you – both in money and in time.
Call us today to schedule your free print cost analysis!
It's not going to cost you anything to find out!
WE REPAIR
We can repair your printer – so you can smile again!
Printer or copier acting up? Don't throw it out the window just yet.
Our repair and service team can whip your machine into shape in no time.
Dont Agonise over it, get it sorted today…
WE SUPPLY
Printers, copiers, multifunctions – you name it.
We supply everything frombasic inkjet printers to large photocopiers.
You can contact us for advice and service and we don't dissapear after the sale.
We are happy to have a chat with you and recomend a machine that will fit your usage and your budget.
BUSINESS PRINTING COSTS OUT OF CONTROL…
Why is your business still buying printer cartridges? Our managed print service means you only pay for the pages you print. Setup is easy, so what are you waiting for?
Kind regards,
Cartridge Green