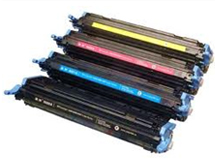 So you've been ordering and buying printer cartridges for your business and done so for as long as you can remember. We take a detailed look at this everyday workplace practice and outline some of the negatives associated with it:
Cost
The vast majority of businesses now use laser printers that require laser cartridges. For black and white laser printers only one cartridge is required but for colour laser printer four cartridges are required and these can run out at different times. Laser cartridges tend to be quite expensive but they print more pages than inkjet printers.
Cheaper generic cartridge options are available but there can be quality issues with these (see below). The most recent laser printers now also require drums in addition to the toner cartridges and these drums can be extremely expensive. Based on each page that is printed, the practice of buying printer cartridges and drums is extremely expensive.
Supplies management
Many businesses have multiple printers, many of which are different makes and models requiring different cartridges that run out at different times. If you consider that each colour laser printer requires four cartridges with different complicated codes, the time and money spent managing the supplies can be avoided with a managed print solution.
Cost control and cash flow effects
The practice of buying printer cartridges effectively means that businesses are pre-paying for printing they will do in the future. Whilst this may not sound such a negative on the face of it, it is likely that most businesses wouldn't pay for their phone or electricity bills in advance so why should printing be any different? The stocking of spare cartridges drastically increases that cashflow commitment further.
Cost control and forecasting is almost impossible when using printer cartridges. Printer cartridges and drums are required when they run out and depending on what maybe required, a large unexpected cash outlay may be required. The irregular and intermittent requirement for printer supplies makes cost control and visibility very difficult.
Generic cartridges
Many businesses recently have switched from the more expensive branded printer cartridges to refilled or generic forms to reduce cost. Whilst some generic alternatives are good quality and work extremely well, generally there is a lack of consistency with generic manufacturers that can lead to quality issues with the cartridges. Leaking toner and low print quality are the two most common visible manifestations of a sub standard cartridges but the most important consideration is around cartridge yield and productivity. All laser printer cartridges advertise a page yield which is the number of pages it is expected to print at a set coverage. It is common for some generic cartridges to fail before the advertised yield is reached meaning that perceived the savings of using a generic over an original branded cartridge are not realised. This creates a false economy and a false saving and may lead the user to revert back to the more expensive original alternative.
The Solution
A managed print service solves all of the negatives associated with buying printer cartridges. In addition, an effective and efficient managed print service will be customised for your business and may lead to even greater savings and improved print function.